Frequently Asked Questions
1
1. What is Bow Wow Dog Houses?
We are a company dedicated to designing and building quality, environmentally-friendly dog houses.
2
2. Can I customize my Dog House?
Yes! Our design platform allows you to add a variety of standard and custom features that enrich your pet's comfort and safety. Commonly requested add-ons are Insulation with Liner, Front Porch, Locking Wheels, Sliding Windows, Vents, Side Swinging Door and a Deck.
3
3. What size dog house should I purchase?
Bow Wow Dog Houses come in five sizes! Please view our dog house sizing chart.
Size
Width
Depth
Height
Common Fit
Small
27"

Wide

27"

Deep

35"

Tall

Australian Cattle Dog, Beagle, Chihuahua, Dachshund, Keeshond, Maltese, Miniature Pinscher, Papillon, Pomeranian, Pug, Toy Poodle, Yorkshire Terrier.
Medium
33″
Wide
33″
Deep
39″
Tall
 Border Collie, Bull Dog, Chow Chow, Cocker Spaniel, Jack Russell Terrier, Standard Schnauzer.
Large
37"

Wide

37"

Deep

43"

Tall

American Pit Bull Terrier, Boxer, Collie, Doberman Pinscher, Labrador Retriever.
XL
45″
Wide
45″
Deep
45″
Tall
Dalmatian, German Shepherd, Golden Retriever, Mastiff, Rottweiler.
XXL
57"

Wide

57"

Deep

48"

Tall

Multi-Dog House (Example: 2 or 3 XLDogs.
4
4. Where can I purchase a Bow Wow Dog House?
Please contact Bow Wow Dog Houses for information about our dealer and distributor network at 1-800-400-7335. Or email us at info@bowwowdoghouses.com and a representative will assist you. You are welcome to visit our showroom at 777 E. Rosecrans Ave. Los Angeles, CA 90059. Our showroom hours are from 8:00am – 3:30pm, Monday – Friday.
RETAIL DEALER LOCATIONS
Please call your local store for hours.
INLAND EMPIRE
C.W. Feed
7070 Archibald Ave
San Dimas, CA 91701
909-944-9427
LOS ANGELES
Brent-Wood Products
777 E. Rosecrans Ave
Los Angeles, CA 90059
800-400-7335
ORANGE COUNTY
Wagon Train Feed & Tack
7618 Chapman Ave
Orange, CA 92869
714-639-7931
SAN DIEGO COUNTY
Alpine Country Feed & Supply
2101 Alpine Blvd
Alpine, CA 91901
619-445-6044
---
Double S Tack & Feed
14335 Olde Highway 80
El Cajon, CA 92021
619-443-9211
---
Hawthorne Country Store #1
675 W. Grand Ave
Escondido, CA 92025
760-746-7816
---
Hawthorne Country Store #2
2762 South Mission Rd
Fallbrook, CA 92028
760-728-1150
5
5. Can you deliver or ship my new dog house?
Yes, we offer Local Delivery in Southern California and we now Ship World Wide. Call or email us for a quote. We also offer free will call at our showroom, please bring a tie down strap to secure your house to your truck,
6
6. What are the front door opening sizes?
All door openings can be customized at no extra price, just make sure to tell your sales rep the exact measurements you need. We find that our standard door sizes work great for most pets, below is a break down of standard door sizes.
Small Dog House, 13" Width x 16" Height
Medium Dog House, 15" Width x 18" Height
Large Dog House, 17" Width x 20" Height
XL Dog House, 21" Width x 24" Height
XXL Dog House, 21" Width x 24" Height
7
How long does it take to have my order ready?
In most cases we ask for a 2 week lead time to build your new house. We have floor models available to buy and take home the same day.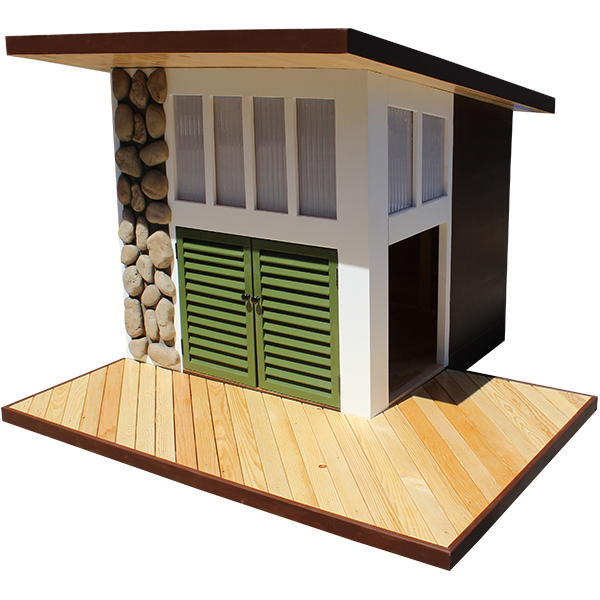 ---
High Quality Built
We at Bow Wow Dog Houses work to ensure that every product is designed and built to keep our favorite companions happy and healthy.
Contact Us
---
[contact-form-7 id="88" title="Contact form 1"]
---
Drop us a line and our experts will get back to you within 24 hours!
[vc_row][vc_column][vc_gmaps link="#E-8_JTNDaWZyYW1lJTIwc3JjJTNEJTIyaHR0cHMlM0ElMkYlMkZ3d3cuZ29vZ2xlLmNvbSUyRm1hcHMlMkZlbWJlZCUzRnBiJTNEJTIxMW0xOCUyMTFtMTIlMjExbTMlMjExZDMzMTEuNDcwODI2OTY1MjE4MyUyMTJkLTExOC4yNjQ2NzM3NDg0NjU4NCUyMTNkMzMuOTAzMjc5OTMyOTE2MTklMjEybTMlMjExZjAlMjEyZjAlMjEzZjAlMjEzbTIlMjExaTEwMjQlMjEyaTc2OCUyMTRmMTMuMSUyMTNtMyUyMTFtMiUyMTFzMHg4MGMyY2E1NzNjM2I1Yjc3JTI1M0EweDQ4NjAxNTExZDVhZTZiMSUyMTJzQm93JTJCV293JTJCRG9nJTJCSG91c2VzJTIxNWUwJTIxM20yJTIxMXNlbiUyMTJzdXMlMjE0djE0NzkyNTI5Mzk2MTklMjIlMjB3aWR0aCUzRCUyMjYwMCUyMiUyMGhlaWdodCUzRCUyMjQ1MCUyMiUyMGZyYW1lYm9yZGVyJTNEJTIyMCUyMiUyMHN0eWxlJTNEJTIyYm9yZGVyJTNBMCUyMiUyMGFsbG93ZnVsbHNjcmVlbiUzRSUzQyUyRmlmcmFtZSUzRQ=="][/vc_column][/vc_row]